Citizens' Committee of One Thousand
The Citizens' Committee of One Thousand was a cabal of Winnipeg's business and professional elite who opposed the General Strike and actively worked to break it. To accomplish this, the Citizens' Committee used its resources, influence, and political savvy to ensure the authorities dealt with the strike in a way that benefited its members. The membership of the Citizens' Committee was secret. Only a handful of members publicly identified themselves during the strike for the purpose of negotiations and communicating the Committee's will. Even today, 100 years later, the number or extent of its membership is unknown. Only a few dozen members have been confirmed, all from its executive.
Photographs of what is believed to be a banquet attended by members of the Citizens' Committee of One Thousand following the strike. WCPI A1292-38698-99. UWA.
The Citizens' Committee of One Thousand was one of several organizations of business and professional elite that had begun to form in the early 20th century to counter labour unionism. One such organization, the Minneapolis-based Citizens' Alliance, had the most direct influence on the Citizens' Committee of One Thousand. The Citizens' Alliance was formed by a conglomerate of business owners and those opposed to unionism in Minneapolis in 1903. They pooled their resources and used everything from litigation to spy-craft to suppress workers and unionism. Its policy when dealing with labour was to "cut off all negotiations and accept nothing but unconditional surrender" (Kramer and Mitchell 2010, 47). This fanaticism appealed to many of Winnipeg's business elite and, in July 1917, the Winnipeg Builders' Exchange invited the Citizens' Alliance to the Royal Alexandra Hotel to discuss the creation of a Winnipeg chapter, which became official in September in a meeting at the home of future Citizens' Committee of One Thousand member Ed Parnell. 
The following year, City employees led a strike that very nearly became a general strike. To stop it, Winnipeg business owners and professionals met at the Royal Alexandra once again. This time, however, they formed the Citizens' Committee of One Hundred, which unlike the Citizens' Alliance, took a more conciliatory approach towards the striking civic employees. Its membership was more diverse, including women and those outside the business elite, all of whom added up to exactly 100. Nonetheless, many of its members would also serve on the Committee of One Thousand the following year, including A.L. Crossin, who chaired both. The Committee of One Hundred staffed vacant City positions, but also helped broach a settlement between the City and its employers.
It is unknown exactly when the Citizens' Committee of One Thousand formed, but it was well established at least two days before the General Strike began. It consisted of an executive, chaired by A.K. Godfrey, and a General Committee, chaired by A.L. Crossin, the extent of which is unknown. It also had various sub-committees that carried on day-to-day operations, such as the sub-committee responsible for the volunteer fire department. Organizing volunteers to replace striking workers was one of the Citizen's chief activities, as was helping to continue City services that the strike had cut off. Its members were genuinely afraid that the strike represented the start of a Bolshevik uprising and did everything in their power to break it. The Committee ran an anonymous newspaper, the Winnipeg Citizen, which proliferated propaganda to discredit the strike and its leaders. The Citizens' were particularly fond of fanning anti-immigrant sentiments and appealing to British nationalism, a tactic which appealed to many, including many returned soldiers. Throughout the strike, the Citizens attended meetings meant to settle the strike, but they adopted the Citizens' Alliance method of accepting no compromise and did all they could to sabotage the negotiations.
As Winnipeg's elite, the Citizens wielded significant influence over local and Federal authorities, which they used to their advantage. This was particularly true of A.J. Andrews, who became an ally of Acting Federal Minister of Justice Arthur Meighen, an alliance which Andrews and the Citizens used to amend Federal immigration legislation, orchestrate the arrests of several strike leaders on June 17, and shut down the Western Labor News a few days later. A.J. Andrews and several other lawyers among the Citizens' ranks prosecuted the arrested strike leaders, despite the obvious conflict of interest. For their work, the lawyers received approximately $227,000 between them (Kramer and Mitchell 2010, 291). By comparison, the Prime Minister made $15,000 in 1920. The Federal Government had difficulty finding money to cover the costs, but eventually decided to use funds that were supposed to have been earmarked to help demobilize soldiers returning from the First World War.
The Citizens' Committee disbanded after the strike ended – at least in appearance. Many of its members reorganized into two organizations: the Citizens' League and the Employers' Association. The former was formed in August 1920 in order to carry on the work the Committee of One Thousand attributed to itself: upholding British law and constitutional order against threats such as Bolshevism. While it had a slightly more diverse membership, former Committee of One Thousand members occupied many of its executive positions. The other organization created, the Employers' Association, was, as the name suggests, meant to look out for the interests of employers and business. It was founded in January 1920 and at least eight former Citizens sat on its board of directors, as did several of the Citizens' allies during the strike (Kramer and Mitchell 2010, 319).
Prominent Members of the Citizens' Committee of One Thousand
Other Known Members of the Citizens' Committee of One Thousand
F.W. Adams
H.M. Agnew
Ed Anderson
A.L. Bond
John E. Botterell
N. J. Breen
George Carpenter
M.F. Christie
D.A. Clark
D.J. Dyson
C.C. Ferguson
 W.M. Governlock
George Guy
W.R. Ingram
G.N. Jackson
F. Luke
W.A. Mackay
C.O. Markle
W. McWilliams
Robert McKay
George Munro
C.A. Richardson
Flether Sparling
A.B. Stovel
H.M. Tucker
J.C. Waugh
Esten Kenneth Williams
W.P. Riley
C.D. Sheppard
Allies of the Citizens' Committee of One Thousand
The Builders' Exchange was founded in 1903 to advocate on behalf of contractors and suppliers, to monitor legislation that would affect builders' interests, to self-regulate the industry, and to provide a united front in labor disputes (Winnipeg Tribune, June 6, 1909). In 1909, the Builders' Exchange was the largest organization representing capital in Winnipeg, its 150 members estimated to have conducted over $12,000,000 in business that year (Winnipeg Tribune, June 6, 1909). Its headquarters – the Builders' Exchange Building, located at the northwest corner of Portage Avenue and Hargrave Street, functioned as a space for conducting business, networking, and generally socializing with peers. In July 1917, the Builders' Exchange invited the Minneapolis Citizens' Alliance and a host of Winnipeg businessmen to a dinner at the Royal Alexandra Hotel. This led to the creation of the Winnipeg's Citizens' Alliance, a precursor to the Citizens' Committee of One Thousand.
One of the benefits of such an all-encompassing organization was its ability to support its members in disputes with unions and employees. In the event of labour disputes, the Builders' Exchange could blacklist specific employees, forbid its members from negotiating with specific unions, pool its resources to obtain injunctions and sue for damages, or provide financial support to contractors who were losing money due to work stoppages. It could bargain with unions individually, using a divide and conquer strategy. Despite this, the Exchange had a relatively good relationship with its employees. Prior to the 1913 depression and the First World War, construction was rapid and plentiful, and skilled building trade workers were in high demand. After 1913, however, construction projects dropped dramatically, and Exchange members began to recuperate lost profits by spending less on employees. The situation worsened in February 1919, when the Manitoba Fair Wage Board left the Exchange and its employees to negotiate a new wage schedule privately. As a result, the Building Trades Council, representing almost all workers in the building industry, began negotiating a new wage schedule with the Builders' Exchange directly, and as singular industrial union rather than as a collection of individual trade unions.
On April 24, the Building Trades Council put forward a wage schedule, asking for an increase in wages of 20 cents for all the workers it represented. The Builders' Exchange agreed with the Building Trades Council that their current wages were not a living wave, but claimed that bankers would not do business with them if they agreed to the increase, which would prohibit building. They rejected the request and attempted to divide the unions. At an April 28 meeting, some unions were offered 10 cent raises, while others were offered as low as five cents. In addition, if its counter offer was not accepted, the Builders' Exchange threatened to refuse to negotiate with the Building Trades Council at all and would instead only negotiate with individual unions. The Building Trades Council refused and voted to strike on April 30, officially walking off the following day, May 1.
There were several attempts by Mayor Gray and Premier Norris to broach a settlement between the two sides, both before the start of the General Strike and after, when the Strike Committee and the Citizens' Committee of One Thousand became involved. The Citizens, however, would only negotiate after the General Strike was called off. The Builders' Exchange, closely associated with the interests of the Citizens, followed suit and negotiations were stalled.  Herbert T. Hazleton, President of the Builders' Exchange, maintained that he and the Builders' Exchange were always willing to participate in arbitration and that it was the workers who refused to negotiate, but on several occasions the Builders' Exchange refused to negotiate until the General Strike had ended and refused to recognize the Building Trades Council (Winnipeg Tribune, June 23, 1919). Though the General Strike ended on June 26, it wasn't until June 30 that a deal was reached between the Builders' Exchange and the Building Trades Council. Despite their victory and despite originally claiming they could not afford to, the Exchange gave their employees more than their original counter offer, but the Building Trades Council was not recognized.
"Iron masters" (sometimes "metal masters") is a term that referred to the owners and upper management of Winnipeg's metalwork industry, particularly those of Winnipeg's largest metal shops: Vulcan Iron Works, Manitoba Bridge and Iron Works, and Dominion Bridge Co. The most prominent figures of these three companies were T.R. Deacon, President and General Manager of Manitoba Bridge and Iron Works, E.G. Barrett, President of Vulcan Iron Works, L.R. Barrett, Vice-President and General Manager of Vulcan Iron Works, and, to a lesser degree, Norman Warren, Western Manager of Dominion Bridge Co. These men were all firmly against unionism and their refusal to recognize and negotiate with the Metal Trades Council was the spark that lit the General Strike. When the strike began, the iron masters realized they had overplayed their hands and decided to negotiate, but this was stymied by the Citizens' Committee of One Thousand, which convinced the iron masters to cut off all negotiations. To assist in reopening negotiations, the Running Trades Mediation Committee, representing six railway unions, attempted to mediate, as did Federal Minister of Labour, Gideon Robertson. On June 4, the Mediation Committee produced a report that was largely in favour of the Metal Trades Council, but Robertson felt the report was "prejudicial" and convinced the iron masters to agree to a deal in which the Metal Trades Council still would not be recognized (Bumsted 1994, 115). The Strike Committee refused. The dispute between the iron masters and the Metal Trades Council continued after the strike ended on June 26. Despite this, workers began to trickle back into the three foundries and their resistance petered out. The iron masters agreed to a modest reduction in hours, but never recognized the Metal Trades Council.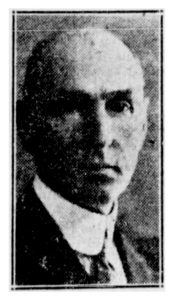 Edward Gordon Barrett and Leonard Richard Barrett were born in Hamilton on October 6, 1865, and in Windsor on December 12, 1871, respectively, and came to Winnipeg with their family in 1882.  Both started their careers at Vulcan Iron Works as low-level employees, Edward as an office boy and Leonard, after working in the fire insurance business, as a clerk. By the time of the General Strike, however, the Barrett brothers ran Vulcan; Edward became President in 1918, succeeding John McKechnie, its founder, and Leonard had become Vice-President and General Manager. Both were active members of Winnipeg's business elite – Leonard served as the Vice-President of the Board of Trade and the Manufacturers' Association – and both were staunchly against negotiating with unions. They had no love of fraternizing with their employees and had less love of being challenged by them. In a 1916 dispute, they refused to even meet with a committee of their employees. Of the situation, Leonard said, "This is a free country and…as far as we are concerned the day will never come when we will have to take orders from any union" (Bumsted 1994, 79). They refused to allow unions in their foundry. When the General Strike began, the Barret brothers were forced to consider negotiation, but the Citizens' Committee of One Thousand convinced them otherwise and they returned to their zero tolerance policy, as stated by Leonard, "the whole situation is in the hands of the Citizens' Committee…in the meantime, we are going to sit tight and make no concessions" (Mitchell and Kramer 2010, 52). When the Running Trades Mediation Committee and Federal Minister of Labour Gideon Robertson attempted to broach a settlement, Leonard, who was more involved in the negotiations, was described as being "very obdurate and quite unreasonable"  and he claimed that "blood would be shed before a settlement was made" (Kramer and Mitchell 2010, 162). Both Barret brothers died unmarried, Edward on January 26, 1935 and Leonard on November 26, 1931.
Image source: L.R. Barrett. Winnipeg Tribune, April 28, 1923. UML.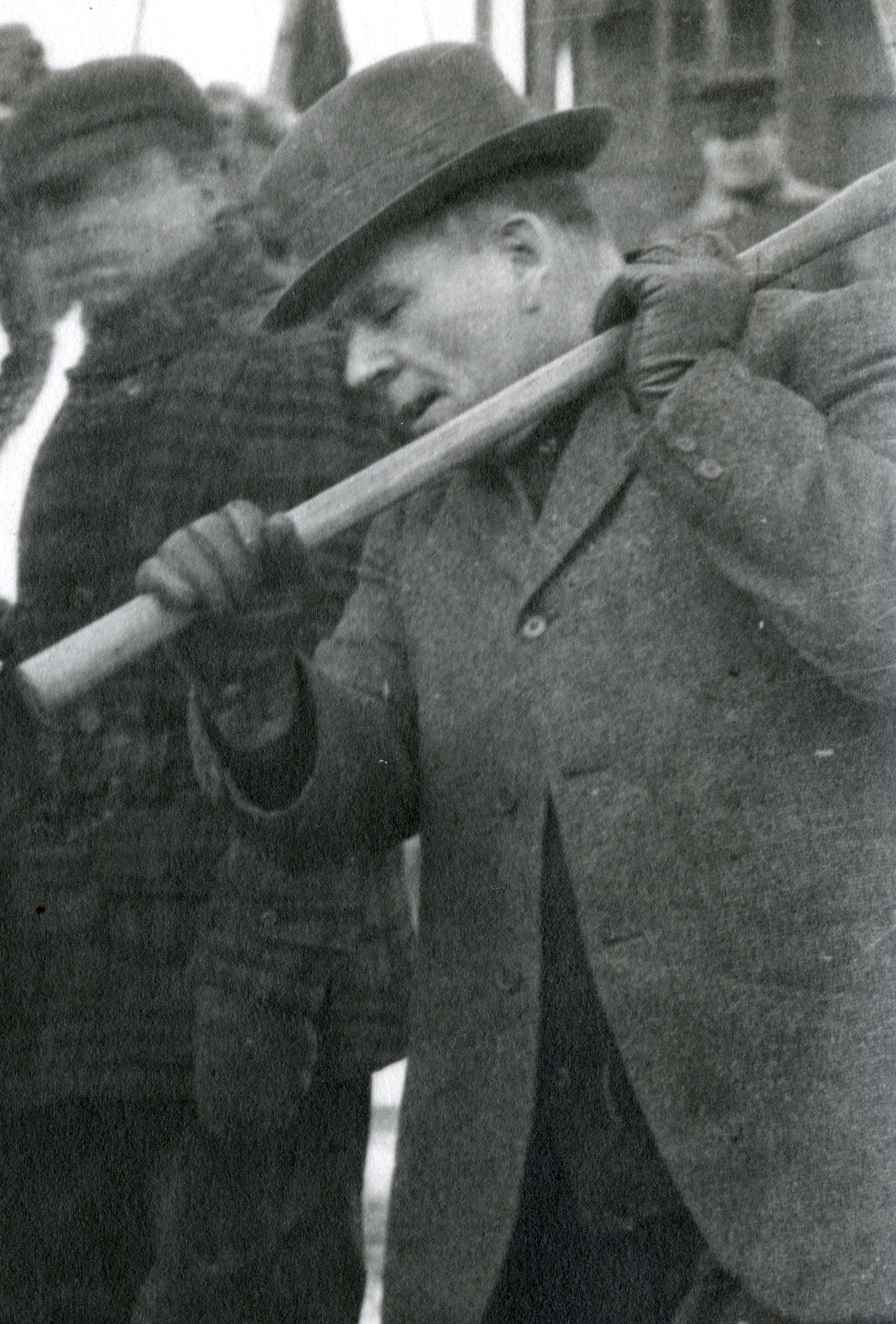 Thomas Russ Deacon was born on a small farm in Perth, Ontario on January 3, 1865. Deacon's father died when he was 11, forcing him to put his education on hold and take up work to support his family. He worked as a lumberman in Northern Ontario, becoming foreman of a log drive at a young age, and then went on to work at a sawmill. He continued his education sporadically and saved enough money to attend the University of Toronto, where he earned a degree in civil engineering in 1891. By age thirty, Deacon's engineering practice was one of the largest in Ontario and made him $7,000 per year (Bercuson 1990, 52). In 1892, Deacon moved to Rat Portage (now Kenora) where he held various positions in the gold and mining industries and became involved in Civic Government. In 1902, Deacon moved to Winnipeg to found Manitoba Bridge and Iron Works alongside Hugh Buxton Lyall. He was also President of the Manitoba Steel and Iron Company and vice-president of the Manitoba Rolling Mill Company. Deacon once again became involved in municipal politics; he was elected Alderman in 1906 and Mayor in 1913 and 1914. In both positions he championed the use of water form Shoal Lake to supply Winnipeg and, as Mayor, he began the process of building the Shoal Lake Aqueduct that isolated the Shoal Lake 40 Reserve. Deacon was heavily involved in Winnipeg's business community. He was a council member of the Board of Trade, a director of the Industrial Bureau, and an executive member of the Prairie Provinces branch of the Manufacturers' Association, as well as a member of the Manitoba Club, the Canadian Club, the Southwood Golf Club, and, after the strike, the Employer's Association.
He was also fiercely anti-labour. He believed in an open-shop policy and consistently refused to recognize or negotiate with unions. He blamed the poor for their own misfortune, once stating that the City's unemployed should "hit the trail", and was described in The Voice as having a "contemptible dog-in-the-manger spirit" (Bercuson 1990, 31, 23). In 1917 Deacon resorted to using an injunction and suing for damages to quash a strike. He also hired strike breakers from Montreal. This left a lasting enmity between him and his employees. He died on May 28, 1955.
Image Source: COWA. William Smaill fonds [A2209 file 1].